Weekly Review Newsletter 3
Wow, it's been an awesome week of performance for Track Trade's TradeSage! In case you're not familiar with TradeSage yet, we will explain. In short, TradeSage is a software model that tracks nearly every transaction on the Ethereum blockchain, analyzing data and collecting information to form alerts to let you know when exactly to buy or sell an NFT. TradeSage alerts will be available soon, so you too can get instant buy/sell notifications from TradeSage.
Each week, we will review the trades completed by the model and review them in this newsletter for you!
Remember, the NFT space moves quickly! If you don't want to miss the best time to buy, you'll want to receive TradeSage Alerts! Be sure to keep an eye out for our eventual launch announcement. This week, we had an overall gain of 3.31 ETH, with the top 3 collections each nearly doubling our investments. We only had 2 small losses that only deducted 0.31 ETH from our total gain which was 3.61 ETH.
This Week's Sales
As we mentioned, TradeSage's model is regularly analyzed, adjusted, and perfected by our founder/developer to produce better results week after week.
Last week, adjustments were made to improve TrageSage's performance, and we are proud to discuss the results with you! Many of this weeks sales were quicker flips, only holding onto the token for a day or less. This week's longer hold came from YuGiYn, which only took 7 days to double in value for a gain of 3.08 ETH over 19 tokens..
YuGiYn: 19 Tokens, 3.08 ETH gain

Bought 10/12 at 2.97 ETH
Sold 10/19 at 6.05 ETH
TradeSage's top gain of the week is from YuGiYn! If you read last week's newsletter, you'll recall we picked up 19 NFTs on October 12th. Those were resold on 10/19 for 6.05 eth, a solid 2x gain! Today, the YuGiYn team announced that after now surpassing about 1255 Eth in volume traded, the collection has now been verified on OpenSea.
The Sillies: 16 Tokens, 0.29 ETH gain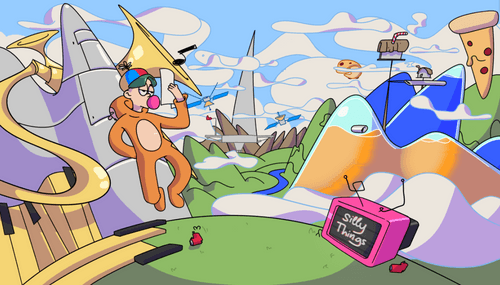 Bought 10/18 at 0.35 ETH
Sold 10/19 at 0.64 ETH
TradeSage made quick work in flipping 16 tokens from The Sillies in a day, almost doubling our investment. The Sillies are just that, a simple collection of 3333 "silly jpegs" for to represent their community. Their mission is a refreshing take on what NFT communities should be focused on – stating on OpenSea that they created this collection because "the NFT space is sometimes really exhausting and based on the market sentiment everyone could use a place to relax, vent and be themselves". If you've been beaten up by the market before, then you probably thought that sounded good too! The Sillies made quick work of selling out there 3333 piece collection. Another solid flip – good work, TradeSage!
Down Market Ducks: 1 Tokens, 0.2 ETH gain

Bought 10/15 at 0.38 ETH
Sold 10/16 at 0.58 ETH
There's no such thing as the market being down if you're trading NFTs with the help of TrackTrade. Remember that Down Market Duck that TradeSage purchased last week? Well, it then decided to sell the token the next day for a gain of 0.2 ETH! Curious how the Down Market Ducks are doing now? Let's just say, we're thankful it was a quick flip because the market isn't looking too hot for DMD right now… as their floor price has already dropped substantially over the past week.
Want to receive our TradeSage weekly newsletter via email? Sign up for FREE here!
Non NFT: 1 Tokens, 0.05 ETH gain
Bought 10/20 at 1.69 ETH
Sold 10/21 at 1.74 ETH
NonNFT is an access pass to the NonNFT Summit, an event for crypto art lovers and artists looking to connect and build toward the future. This is a smaller collection of just 666 pieces, however according to their manifests, additional tickets to this summit will also be offered. Looks like TradeSage knows when to exit, because we were still able to gain 0.05 before the collection floor price fell to around 1 ETH where it is sitting now.
Proof Of Apes: 2 Tokens, -0.15 ETH loss

Bought 10/19 at 0.3 ETH
Sold 10/19 at 0.15 ETH
Proof of Apes have partnered with Polygon and Matrix News in an effort to launch and maintain the Proof of Apes coin, or $PoA. PoA seems to have an active and supportive community and is now available on cryptocurrency exchanges and getting new members everyday. Unfortunately, this was a loss for the week as it seems there may be something odd going on behind the scenes. Members pointed out in the comments section of a Matrix News post that they had noticed that though PoA was gaining new members, and new purchases were being made, the value of the coin kept decreasing – perhaps indicating the founders were draining funds from the total. This may be an example that good marketing may not always be correlated with a good project.
Nyolings: 4 Tokens, -0.16 ETH loss

Bought 10/16 at 0.26 ETH
Sold 10/16 at 0.11 ETH
Nyolings is collection of 7777 3D cute and lovable characters that we tried to flip on 10/16. It looks like they have an active community on twitter, but TradeSage must've picked up on some red flags and decided to sell and for a loss of 0.16 ETH.
This Week's Buys
This week, we have a pretty simple lineup of new purchases. TradeSage bought quite a few more RektGuy's… 13 to be exact. In addition, the TradeSage also picked up a single Splat by Devotion NFT for 0.6 ETH, another batch of FewoWorld's "Paint NFTs" for 0.39 ETH, and one Mothz (WenLamp) NFT for 0.07 ETH.
RektGuy, Splat by Devotion, FewoWorld & Mothz

NFTs and meme culture have gone hand in hand since the start, so it's usually pleasant to get a giggle out of a name. Mothz (WenLamp) sold out and was OpenSea's #1 Trending collection on October 17th! TradeSage bought 1 token for 0.07 ETH, and has been holding. Mothz can be staked to earn "nectar" which are entries into weekly giveaways. More Mothz, more nectar, more chances to win (each valued at $50,000+ each). Will they sustain the hype?
I think it's definitely notable that the TradeSage loves the RektGuy collection. Since the start of this newsletter, TradeSage has been consistently buying and selling RektGuys. Not sure if I was shocked of though to see that 13 more were picked up today!
In Other News
OpenRarity by OpenSea
OpenSea has introduced a new rating protocol called OpenRarity, which is a collaboration with icy.tools, Curio and PROOF who have all been individually leading the NFT ranking space. This new rating system is meant to make it easier for buyers to more accurately know how much an NFT is worth compared to another in its collection based on its attributes.
OpenSea initially began showing a "rank" aside alongside the images on September 21st. This new feature hasn't been fully embraced by NFT buyers yet, as many point out that the rank generated by OpenSea can undercut natural community driven ranking and demand. They say this is because the OpenSea rank is based on a few factors, like simply how many times a trait appears in a collection. Overall, this can cause a lot of issues for projects if not implemented properly. Since the launch, OpenSea has already modified their ranking protocol based on feedback amongst the traders to improve its accuracy. Its likely that we will also start to see project founders and developers coming up with unique ways to utilize the full ranking system, changing how they design traits and structure collections in order to make better use of the new OpenRarity system.
Word of the Week
It's important to stay on top of news in the NFT space, as new projects, protocols, and platforms enter the scene daily. We've noticed the uptick in new NFT marketplaces, each with different services and functions. We thought it would be helpful to remind you of each marketplace's unique benefits, in today's Word of the Week.
Which NFT Marketplace is BEST for you?
Have you noticed any new NFT marketplaces over the past few months? New NFT marketplaces are popping up every day, each offering different benefits to buyers and creators. Whether you're buying or selling NFTs, it may be helpful to do some research and find out which platform is the most beneficial to you! Here's a brief highlight of what's offered by each marketplace:
Nifty Gateway – Are you new to trading NFTs and don't have a crypto wallet? No problem! On Nifty Gateway, all NFTs can be bought with a credit or debit card. This, as well as their simple and user-friendly interface make Nifty a good gateway into NFTs for new traders.
OpenSea – Most expansive platform offering the biggest range of NFT collections and accepts over 150 types of cryptocurrencies. Free to sign up and easy for creators to mint their own NFT. Offers a traditional creator royalties structure, allowing the creator to set a percentage they wish.
X2Y2 – X2Y2 is a newer marketplace that has taken a non-conventional approach to creator royalties. On this platform, buyers can select the amount of royalties they'd like to send to a creator, or they can even choose to send no royalty at all. This makes X2Y2 an appealing choice to certain investors, looking to make more money with smaller margins, however the idea that marketplaces can decide to omit royalties all together has been a cause for concern among many creators.